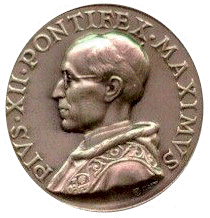 EUGENIO PACELLI - PIUS XII - IS THE POPE WHO CONVERTED
THE GRAN RABBI OF ROMA ISRAELE ZOLLI, THE 13 FEBRUARY 1945,
TO THE HOLY ROMAN CATHOLIC CHURCH.
THIS IS THE CAUSE OF THE HATE THE JEWISH MAFIA HAVE AGAINST
THIS GREAT POPE, AND SINCE THEN THEY HAVE DONE EVERYTHING TO
DISCREDICT HIS NAME WITH LIES AND INSULTS.
ZOLLI CONVERSION WAS CAUSED BY THE POPE PIUS XII
WORK REGARDING THE RESCUE OF PERSECUTED JEWS.
OF COURSE THIS FACT HAS BEEN SUPPRESSED SINCE THEN
BY THE RACIST JEWISH CONTROLLED INTERNATIONAL MEDIA!
ZOLLI WAS FOR THEM A "MESHUMAD" (Volontary Apostat) WHICH
CAUSED THEM EMBARASS AND HATE,
ZOLLI WAS THE GREATEST CONVERSION IN MODERN HISTORY!
THE JEWISH MAFIA CONSIDER THIS CASE AN "ANATHEMA"
AND RACIST JEWS CAN'T EVEN PRONOUNCE HIS NAME!
YOUN CAN READ ZOLLI BOOK ON HIS OWN CONVERSION:
"BEFORE THE DAWN", Sheed and Ward, New York, 1945.
AS ST. PAUL, THE CHIEF RABBI OF ROME BECOME A CATHOLIC!
AD MAJOREM DEI GLÓRIAM!
ISRAELE ZOLLI DIED FRIDAY, 2 MARCH 1956, AND TO THESE DAYS
THE RACIST JEWS STILL HATE HIM.
THEREFORE IS VERY IMPORTANT THAT ROMAN CATHOLICS
DEFEND POPE PIUS XII'S MEMORY! FIGHT THE JEWISH HATE!
FIGHT THE RACIST JEWISH MAFIA AND THEIR LIES!